Christmas is right around the corner, which means it's time to find the perfect gift for that special someone in your life. If you're searching for what to gift your girlfriend this Christmas, remember that fine jewelry is a gift that's always adored. Fine jewelry is beautiful and sentimental, so she'll feel special and loved when she receives it. Then, fine jewelry is also practical, since she can enjoy wearing it for years to come. So fine jewelry is something that will dazzle now, yet it's also a gift that keeps on giving.
If you do opt to gift your girlfriend a new piece of fine jewelry, she's sure to be excited. But what type of jewelry should you gift your girlfriend? What's at the top of her Christmas list? To help you find a timeless and gorgeous Christmas gift she'll adore, in this post, we're highlighting 8 of our most highly desired jewelry designs! Continue reading below to browse our top Christmas gift ideas for women and find a holiday gift she'll treasure for a lifetime.
Diamond Stud Earrings
First up in our list of the best Christmas gift ideas for women, we have diamond stud earrings, one of the most classic and enduringly desired types of jewelry. Diamond studs are elegant, versatile, and simply gorgeous. No matter which style of studs you choose, diamond studs are a sure-win gift idea that will take her breath away.
While all styles of diamond studs are beautiful, our top style recommendation for Christmas 2019 is a pair of halo set diamond studs, like the mesmerizing pair pictured above. A halo setting is a setting style in which your center diamond is surrounded by a ring of smaller diamonds. Halo settings (which are a 2019 best-seller) add even more shimmer and impact to a classic pair of diamond studs, giving them an incredibly glamorous, yet still chic, style.
Heart Stackable Ring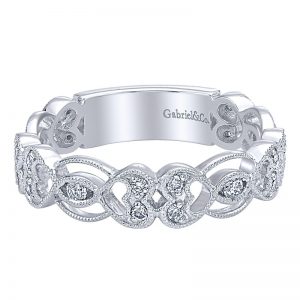 This heart-patterned stackable diamond ring is both elegant and sweet. This delicate yet ornate ring has a beautiful patterned design comprised of hearts and marquise-shaped white gold accents, all set with glimmering white diamonds. This ring is a romantic and thoughtful gift that works beautifully as a luxe fashion ring, a promise ring, or an anniversary ring.
XOXO Bracelet
Say "I love you" with gold and diamonds by gifting your girlfriend this XOXO bracelet. This yellow gold chain bracelet features four golden charms that spell out "XOXO." This romantic and sentimental bracelet has a design that is minimalist, delicate, and a bit modern, which gives it a charming style that will appeal to many women.
Birthstone Jewelry Necklace
Birthstone jewelry is always a great gift idea, whether you're shopping for a birthday, an anniversary, Valentine's Day, or for a holiday gift. Birthstone jewelry is beautiful and classic, then also has a personalized touch that makes it particularly thoughtful gift. We love simple necklaces for birthstone jewelry gifts, since they're incredibly versatile and wearable. A birthstone necklace can be worn alone or as a part of a layered necklace look, so she can add a personalized touch to her ensembles any way she likes.
Pictured above, we have a stunning amethyst and white diamond necklace, which is a lovely option if your girlfriend was born in February. If you're looking for another beautiful birthstone option, browse our full collection of gemstone necklaces to find a personalized birthstone necklace for her.
Blue Topaz Studs
These blue topaz studs are the perfect way to add a luxe pop of color to any outfit. These gemstone stud earrings feature two clear sky blue topaz gems set in ethereal floating solitaire settings. These studs have an airy, simply mesmerizing beauty that is sure to thrill her when she unwraps them in your living room on Christmas morning— and when she wears them on date nights for years to come!
Fashion Pendant
This horseshoe fashion pendant is a unique gift idea that is at once luxurious and whimsical. In this design, a horseshoe-shaped pendant set with over a dozen white diamonds dangles from a slim 14k yellow gold chain. Along the necklace's slim chain lies a single bezel set white diamond that adds a delicate, asymmetrical detail. This fun and fashionable pendant necklace is a luxe lucky charm that will add a unique touch to any ensemble.
Hoop Earrings
Diamond hoop earrings are a chic, timeless option she's sure to love. Our best gift recommendation among hoop earrings is this elegant pair of white gold huggie diamond hoops. We love these hoops because they're both gorgeous and incredibly wearable. This hoop earring gift set will allow her to add the perfect amount of sparkle to her everyday looks.
Diamond Bangle
This diamond bangle is an elegant, dazzling gift option that she'll adore. This diamond bangle bracelet features a line of scalloped white gold that is set with a beautiful array of round diamonds in varying sizes. This icily beautiful bangle has a perfect mix of radiance and brilliance that will make her heart rate rise every time she looks at.
Final Thoughts on Our Holiday Gift Guide
There you have it: our list of the best gifts to give your girlfriend this Christmas! We hope this Christmas gift guide has been helpful in assisting you with finding the perfect gift for your loved one this holiday season.
Looking for even more beautiful jewelry that's perfect for gift-giving? Browse our full collection of exquisitely made fine jewelry, which features diamond jewelry, gemstone jewelry, monogram jewelry, handmade jewelry, rose gold jewelry, fine watches, and much more.