There's nothing more romantic than a holiday proposal. The holidays provide endless opportunities for a memorable proposal— but, of course, first you'll need to find that perfect ring. For those on the hunt for their holiday proposal ring, we've put together this list of holiday engagement ring trends. We've highlighted the top five trends and have included our favorite rings in each category.
1. ROSE GOLD ENGAGEMENT RINGS
Rose gold engagement rings are one of the top trending styles of the moment. This gorgeous precious metal, which gets its soft pink color due to its blend of yellow gold and copper, has a romantic, vintage-inspired look that couples can't seem to get enough of.
Pictured above is one of our favorite rose gold engagement rings. This exquisitely detailed ring features a gorgeous round brilliant diamond, which is nested in a unique marquise diamond accented setting. Even more diamonds adorn this ring's bridge and band, beautifully set along the rose gold backdrop.
2. THREE STONE ENGAGEMENT RINGS
Three stone engagement rings boast stunning shimmer and a lovely sentiment. In a three stone ring, the three center diamonds represent a couple's past, present, and future together. This style of engagement ring is classic and simply lovely.
The Tacori Dantela three stone ring featured above showcases this traditional style beautifully. Here, the classic three stone design is accented by intricate engravings along the sides of the diamonds' settings and band, adding a beautifully ornate touch.
3. GEMSTONE ENGAGEMENT RINGS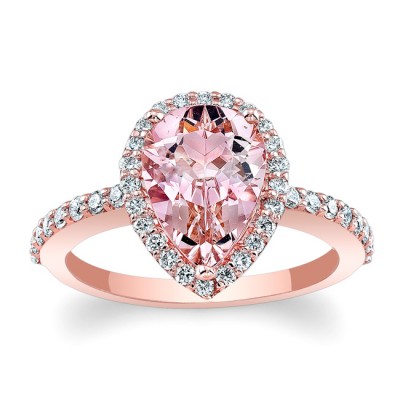 Gemstones have been perhaps the biggest engagement ring trend of the year. Gemstones offer immense style variety, as they come in every color of the rainbow, and they have a more distinctive look than diamonds.
While many kinds of gemstones are trending this holiday season, morganite is the most popular of all. This precious gemstone has an entrancing, softly pink hue that gives every morganite engagement ring a unique, romantic look.
Morganite looks particularly lovely with rose gold, as you can see in the ring featured above. In this design, a pear shaped morganite is surrounded by a halo of pave diamonds, while additional pave diamonds shimmer along the band. The rose gold setting echoes the pink color of the morganite, creating a beautiful, blushing look, while the pave diamonds add stunning brilliance.
4. FANCY CUT ENGAGEMENT RINGS
A big trend this year has been fancy cut diamonds, which is a term for any diamond that isn't in the traditional round brilliant shape. As with gemstones, choosing a ring with a fancy cut diamond offers the wearer an opportunity to express more of their personality with their engagement ring. Fancy cuts include pear shaped, marquise, asscher cut, cushion cut, emerald, heart shaped, and princess cut diamonds.
Pictured above is one of our favorite fancy cut engagement rings , which features an exquisite princess cut diamond. This design by Verragio is mesmerizingly intricate and its ornately detailed split shank bank perfectly enhances the beauty of its enclosed fancy cut diamond.
5. ANTIQUE AND VINTAGE INSPIRED RINGS
While vintage-inspired rings have been trending for a few years, antique-inspired rings have only just recently started to trend. If you aren't sure of the difference between antique and vintage, know that vintage eras include anything between 20 and 100 years, while antique covers everything before that.
Antique and antique-inspired rings have an old world beauty that is simply enchanting. Pictured above is one of our favorite antique style rings, which has a cushion shaped halo setting that gives this ring a particularly unique look.